Our People
Our dedicated employees are here to provide support, compassion, and information to help you through your journey of grief and the celebration of your loved one's life.
Everden Rust Funeral Services - Kelowna
Everden Rust Funeral Services - Penticton
Everden Rust Funeral Services - West Kelowna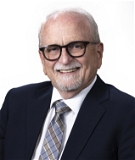 Glen Whittaker
Funeral Director
glen@everdenrust.com
Glen Whittaker was born and raised in Victoria BC, Glen studied business administration at college before embarking on a career in retail management, which lasted for over 25 years. He was then introduced to funeral service. A career change became inevitable, and Glen has been a licensed funeral director and embalmer since 2002. The most rewarding part of the job remains to be what drew him into funeral service in the beginning: seeing families progress from the loss of a loved one to "turning the page" and beginning a new chapter in their lives. Much of Glen's time away from work is dedicated to Lions Clubs International, another avenue of service to his community. Glen and his wife, Elaine, enjoy quality time with family. Vacations vary from Saskatchewan to Victoria, with the occasional cruise to warmer winter destinations. They spend as much time as possible with their only daughter and her family. Glen and Elaine have been season ticket holders to their local junior hockey team (currently the West Kelowna Warriors) for many years. Glen also enjoys football (CFL please!) and a good book.